Have you noticed that some people have a more profound effect on your life than others?  My friend Len is one of those folks for me.  Just before we got to Penticton 18 years ago Len and his wife Lillian had moved to Penticton.  And as the call came for us to Pastor Grace MB Church Len was one of the first to welcome us to the family with his usual greeting, "g..mornin".    It didn't matter what time of day it was, Len always said, "g..mornin".  It was always a good morning for him.  Len is about 40 years my senior.  And as Lillian will outline for you we had little in common in our lives.  About two things really…Jesus and we both love to worship the Lord.  But over the years we found a lot more in common than we first thought.
They say that pastors need to keep a professional distance from their congregation.  A quick look in Google and you'll see this philosophy clearly espoused.    Our friendships should be found outside of our current posting according to those who teach at seminary and Bible Colleges.  And there is some very good reasoning that goes long with that advice.
Yet somehow I can't reconcile their advice with the promise that Jesus gave when "Peter said, "Behold, we have left our own homes and followed You."  And He said to them, "Truly I say to you, there is no one who has left house or wife or brothers or parents or children, for the sake of the kingdom of God, who will not receive many times as much at this time and in the age to come, eternal life." (Luke 18:28-30).  I know this to be true because of Grace MB Church and the family I have found here.
Len quickly became a friend and dare I say more than a friend to me.  I think he kind of considered me one of his kids.  And to be honest over the years he became  a wonderful father figure in my life.   He is a straight shooter yet never harsh when something isn't right.  He would always find a way to be positive when troubles were at hand.  Ask him how he was doing and he always used to answer, "never better".   He's a man of grace with tons of mercy mixed in.  
Len reminds me of the friend we have in Jesus.   So when he started to shows signs of aging it was like watching my father go through what each of us will one day face.  And that came with all the emotional issues that a parental love relationship carries.  I just couldn't bear seeing him slow down, and wouldn't accept what everyone knew was happening to him.  I finally realized this when I was at a conference in Edmonton and spoke to one of Len's sons as though I was his brother talking about our father.  It was in that moment that I understood what the profs at college were getting at.
For a time I had to pull away emotionally because it was getting too hard to be Len's pastor.  Yet I'm not built for metered love.  I'm a all in sort of guy.  My friend Len will always be my friend!  The relationships we form on this side of eternity were never meant to be temporary. Perhaps that makes me a poor pastor at times.

Yet for Len and I it's been 13 great years of serving Jesus together in song and in the word.  I will miss those times sorrily in the time between now and eternity. I will cherish them and I am thankful that along the way we recorded some of those moments for days when I want to reminisce and remember that I have something to look forward to.  But as Len and I sang many times we have "so many million years that we can't count them" to enjoy being in God's presence singing to the Lord.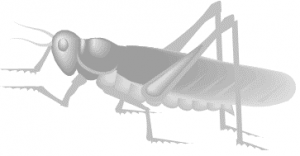 ---
Some time ago Lillian blessed me with a booklet she had made detailing Leonard's life.  She entitled it "The Last of  the Locusts".  I asked her and Len's permission to post it here and they gracefully granted it.   That was about five years ago and I'm finally getting around to it. …Such is a pastor's life…hurry up and wait.
Sister Lillian is a fine writer and I suspect you'll enjoy her sometimes humorist account.   I'll be putting in some of the music clips that I've got along with pictures that  Lillian had collected for the booklet.   And I want to say to Len's family members you are free to send me any that you would enjoy seeing in this collection.
Gusts of brisk, wintry winds whistled around the eaves, sending showers of soft, feathery snowflakes swirling against the frosty window panes of the old hospital in the little northern town of Radway, Alberta. The date was March 31, 1928, and it was on this day that Leonard Sydney Rempel made his lusty debut into the world.
"He certainly does have a remarkable pair of lungs, "Dr. Holibisky said to the happy mother. "I'm sure he will become a fine singer someday.'"
Baby Lenny's parents, Bill and Alice Rempel lived on a small parcel of land along the railroad tracks in the center of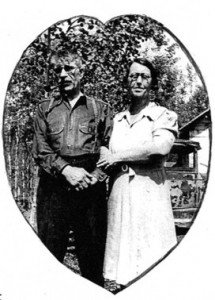 Radway. They were a hardworking, dedicated couple who laboured faithfully to overcome the struggles of hardships of the depression that was mercilessly closing in around them. The era of the "Hungry 30's" lay dangerously around the corner and they were already experiencing some difficulty in providing a comfortable living for their family of seven.
Mr. Rempel owned a team of dray horses and with his grain crusher and wood saw equipment did custom work around the neighborhood.
His thrifty, competent wife with all her talents of homemaking made sure her family was well cared for. She was an excellent cook and her exceptional skills at the sewing machine kept her youngsters clad in the best of clothing throughout the seasons,
When Lenny came into the Rempel household the older children were quite grown up. In fact, a couple were old enough to have been parents to him themselves. It was no secret that Lenny was the joy of his parent's latter years, and in turn, his siblings as well, vied for a prominent place in his little heart.
Coming four years, as he did, after the last child, Lenny immediately became the darling of the family; was cherished and adored by all. From the very beginning it was evident that Lenny was an infant of peace and smiles. His angelic personality shone forth the moment his impish, grey—green eyes with their dark, curling lashes recognized and responded to his constant stream of admirers. They loved his sunny disposition and were only too anxious to gratify his slightest desire.
When Lenny reached the age of three or four years it was mutually decided that it was time for him to receive his first haircut.
They sat him on a chair in the middle of the kitchen and began this much dreaded task. It was later confessed that it was almost with tears that they snipped off his nearly shoulder—length golden curls and watched them cascading to the floor.
But Lenny was most elated, for he realized that he now presented his true identity as a brother in the Rempel household, for the first time in his life.
It was at the Mizeppha School at Radway that Lenny first eagerly entered classes. He advanced quickly as he diligently applied " himself to his lessons. In addition to his interest in competition for highest marks, he was overjoyed with the company of his many classmates. With his friendly, fun-loving nature he soon became a school favorite. On several occasions his loyal playmates were even willing to stand up and receive Lenny's punishment when the teacher caught on to the mischievous activity taking place behind his back.
However, this very pleasant era that had been Lenny's whole life came sadly and suddenly to an end when he was taken out of school just after he had passed into the 6th grade.
The Rempel family was being transferred to a remote area in northern Alberta where Lenny's father and older brothers would have steady employment in a newly formed sawmill company.
In a very short time Lenny found himself in a totally new environment with the town of Radway and all that he had ever known, left far behind, forever.
Now, a small frame house beside a dusty highway, overlooking the placid expanse of beautiful Lawrence Lake had become his home, where he settled in with his parents and his brothers. As he ambled aimlessly around the cluttered mill yard the future loomed exceedingly bleak for young Lenny with no children his age living in the woods around him.
Often, Lenny's thoughts returned to days gone by, before they had moved to this place. How he missed those special hours he had once enjoyed with his beloved father; his Dad, who in the past always had time to tuck his Lenny onto the seat beside him as he made his rounds crushing grain or cutting huge piles of stove wood throughout the neighborhood for his customers. But that had all changed, now that his father was shackled to the mammoth, noisy steam engine that powered the sprawling sawmill, until late into the night.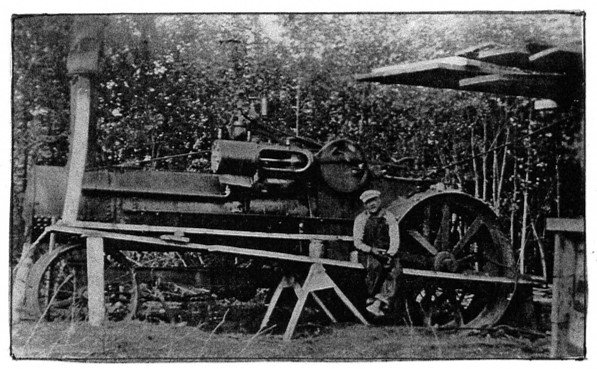 Now, in the evening of the day, Lenny would wander down along the lake-shore, listening to the cry of the loons echoing across the waters. Perched atop a sawed—off tree stump, he realized how much he missed the friends he'd left behind in his childhood. Here, there was no school to attend, nor children living near-by with whom he could share all his youthful aspirations. Several men were hired to work at the mill but their families lived ' back home', in faraway places.
Lenny's older sisters had left home to pursue their own interests when the Rempels moved to Lawrence Lake; he missed all their fellowship and the hours of singing that had always filled their home.
Lenny's brother Willie, was the sawyer of the saw mill operation, and his brother, Rod was also employed with the company. They loved their little brother, yet their worlds were far apart from the understanding and mental needs of young Lenny.
For some time he shared a cramped bedroom with his brothers, in the small house on the mill—site.  From his narrow cot in the corner of the room, Lenny often heard them in deep conversation as they played their endless games of cribbage during the long winter evenings.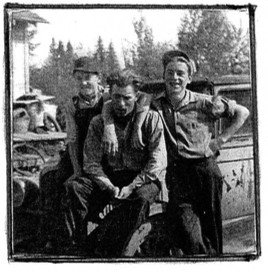 To his ears came their boasting of arm wrestling victories, glowing highlights of house parties, the amusing antics of their inebriated fellow workers, their hushed discussions of girlfriends and their laughter at being referred to as " those hot-blooded Rempel boys", whatever that might have meant.
As Lenny drifted off to sleep night after night, his thoughts were in a jumble. It sounded like so much fun to be a grown-up, he reasoned. But for him that seemed to be a long way off.
The years dragged slowly along for young Lenny.  During the summer months he spent time riding his bicycle up and down the dusty highway that meandered past his home. All winter long he enjoyed sleighing or tobogganing down a steep hill where traffic had turned the snows to an icy runway. He was grateful for his little dog who was his constant companion. And he loved the horses that were used for skidding the logs up to the mill site. Whenever Lenny had a chance he would venture out to the barn where they were stabled and he spent many hours currying out their tangled manes and tails. It pleased him that they responded to his touch, as speaking softly, he patted their glossy sides and stroked their long, silky ears.
Occasionally, he was allowed to ride one of these spirited creatures in from the bush when the skidder had finished his work for the day.
Then, that very summer season Lenny's youngest sister, Eva left her job in the city to come and visit her family.  With her, she brought along a small black guitar which she hoped she would learn how to play. Lenny was fascinated with the rhythmic tone of the guitar as the steel moved across the shining, strings.
At his request, his sister readily consented to allow him some time to practice on her guitar. Their mother had a lovely singing voice and had often been called upon to provide solos at weddings and funeral services. Now, sitting at her knee, Lenny slowly moved the steel bar across the stings of the guitar. When at last the proper tone was reached his mother would exclaim, "There Lenny, you've found the perfect chord!"
In an amazingly short time Lenny had memorized all the chord arrangements and very soon he was able to sing the songs his mother had taught him, with his own guitar accompaniment.
It has never been known as to whether Eva ever learned to play her guitar during her summer visit, but it is a fact that when she went back to the city that fall, she left empty handed. For a $5 dollar bill her guitar now belonged to brother Lenny.
With the mastering the art of learning to play the guitar and release his emotions in song; Lenny's life was never in lacking in joy and fulfillment again. This was the beginning of a lifetime dream of his in music and Lenny has never been without a guitar of his own to this day.
In the usual natural course of time Lenny's small, gangly frame was rapidly developing into a body of vigor, strength and brawn. His zeal for action and availability coupled with his comfortable success in working with horses caught the eye of the company boss.  Soon, he offered Lenny a job as skidder at the mill. This work entailed using one horse at a time to pull fallen logs from the bush to be decked conveniently for the sawyer who would then turn them into lumber. That Lenny was still not tall enough to heave those heavy harnesses onto the backs of the horses did not daunt his enthusiasm in the least. There was always someone at the barn who was willing to help him get his horse ready for the day's work.
Lenny was twelve years old when he was put on the meager payroll of the R. Stelter Lumber Company and without his even realizing it his childhood was gone forever.
Life for Leonard Sydney Rempel became considerably more interesting now that he was a full-fledged employee of the lumber company. He soon adjusted to rising at an early hour every day to take his place on the job with all the other lumbermen. He loved working with the lively, spirited horses and he was in constant competition with the other skidders as to who could bring the most logs to the mill, by the end of the day.
When his hours of work were over for the day, during the hot months of summer Leonard and his friends would rush down for a refreshing swim in the cool, fresh waters of Lawrence Lake. Then, after a hearty supper they were more than ready for an evening of relaxation and recreation.
Though wages were very low in those days, it was reassuring for Leonard to have enough money in his pocket to enable him to take in the weekly western shows in the town of Athabasca. These were held in an upstairs room of the old Parker Building on the corner of Main. It was always very late when those old black and white films finally came to an end. But in spite of the hour, a stop at the Royal Cafe for a piping hot hamburger sandwich was a must, before facing the 30 mile drive back to camp. Then, after a few hours of rest, another long day on the job began, a routine that he took in his stride, with much enthusiasm.
Leonard became an excellent ball player and was in demand at all the ballgames, around the country side, as their star player. His long arm rarely missed a whizzing fly ball, he was an accurate batter and he raced around the ball diamond with such speed that he scored many runs for his team.
It was a happy day for Leonard when he was able to buy his very own pony, a lively bay gelding named Tony.  He spent many hours in the saddle, presenting a dashing figure in his smart leather jacket and wide brimmed black Stetson with strings that dangled down on either side of his face.
It was this pony and his love for music that dominated Leonard's life at this point in time. Leonard was becoming quite famous for his melodious singing voice, making him most popular at all the family house parties and local functions in the neighborhood.  As his teenage years lengthened his circle of companions widened, enabling him to enjoy a few brief romantic interludes, which not only helped him to pass the time of day but added greatly to his sense of self-esteem.
By now, Leonard had worked at the saw mill many years and he was a commendable asset to the company, being skillful in all aspects of the operation. His cheerful, sanguine disposition endeared him to all his fellow workers as he was always willing to lend a helping hand.
Together with his father and brothers Leonard had part ownership in the family car. But without a doubt, Leonard managed to have more than his share of the automobile's use. This was much to the dismay of his two brothers who were now married with wives of their own.
Very often they found they had to hire a neighbor's vehicle, because theirs was nowhere to be found when they needed it.
It was the summer of 1946 that events began to come together that would reshape the destiny of Leonard Sydney Rempel forever.  And in a way that he least expected.  Lillian Mabel Olson emerged from the shadows of beyond like the dawning of a fresh, new day; a meeting that stirred Leonard's heart in wonderment. Lillian was employed at a small country restaurant and that was many miles from his home in Smith, Alberta.  But Leonard had to admit that it was his curiosity and attraction to this tall, slim girl with intensely blue eyes that aroused his interest from the start.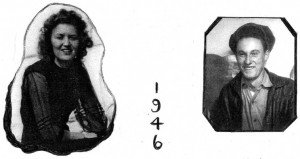 Often, when day was done, he found himself turning his car westward, for no apparent reason, and before he could change his mind the old ramshackle hotel loomed up in sight. There, he knew Lillian would soon be finished with her duties for the day.
It amazed him that he was willing to drive all those long miles over dusty, gravel roads after he had already completed his strenuous day of labor at the sawmill. But once he sauntered across the lobby floor and caught one glimpse of Lillian's beaming face at the counter all his thoughts of fatigue quickly faded. It surprised him that it became more and more easy for him to fit this routine into his schedule.  And with every meeting he and Lillian also became more and more comfortable in each other's presence.
With his winning smile and sunny disposition it took Leonard no time at all to persuade Lillian to respond to his gentlemanly advances. As they took long car rides out in the country he was instinctively aware of her pleasure and appreciation of his rich, mellow voice as he sung to her the current songs of the day. He was pleased to discover that she shared his love for horses and that riding had always been an important part of her life.
One day Lillian invited Leonard to meet her family who lived in a remote community several miles in the country. The Olson's home was located on a beautifully landscaped farm that held much interest for Leonard. There was livestock, cattle of all breeds and several quiet horses that doubled for farm work or riding pleasure. In the barnyard below the hill a goodly number of hogs were raised for market and flocks of white Leghorn hens provided a fair income for the family.
Leonard found himself welcomed into the Olson household at once. Lillian's father, C.B., a rangy Norske received him with such a direct admiration for his sawmill knowledge and maturity that Leonard was deeply impressed. The friendly warmth and hospitality of Mrs. Olson won his heart from the start. He enjoyed the attention of her two sisters and her younger brother Don, who idolized Leonard, followed him around like a puppy.
Much to Leonard's joy there was always music at the Olson household. As soon as the scrumptious Sunday dinner things were laid away the musical instruments would appear on the scene. Mrs. Olson would take her place at the old upright piano, while sister Irene strapped on her 120 bass accordion. With Leonard and little brother Don strumming their guitars many hours of playing and singing was enjoyed by them and the remaining family audience.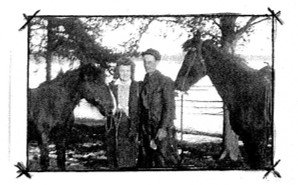 For Leonard, the days flew by joyfully as he made frequent trips up to the Olson residence in the Rempel family car. He and Lillian spent many happy hours taking horseback rides along the winding Athabasca River, playing games or simply enjoying each other's company.
After several weeks of a sublimely wonderful courtship Leonard came to the conclusion that he had indeed truly found his heart's desire. It was at the celebration of their first Christmas together that Leonard asked Lillian to be his wife. Their wedding date was set for June, of the following year.
How they looked forward to the day when they could begin their life together and enjoy the many years of wedded bliss upon which their hearts were now centered. In the meantime, Lillian decided to remain in the home of her parents as she enthusiastically accumulated linens and useful items for her future household.
But until then there still remained several months of winter ahead when the snowdrifts settled deeper and the country roads were impassable for vehicles. Therefore, the lovers saw very little of each other throughout the winter and the months dragged slowly along.
Occasionally Leonard braved freezing temperatures when he borrowed a saddle pony to ride the 10 mile trip out from the highway to visit his Lillian. He would be stiff with cold and his pony covered in frost by the time he arrived, but what a warm welcome he received by Lillian and her whole family when he finally rode into the yard.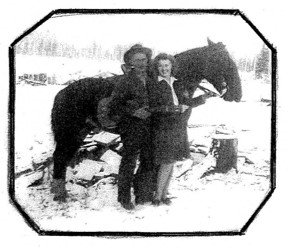 When spring, at last arrived, in all its glory Leonard was once again able to drive his car all the way out to the Olson residence, non-stop. He could hardly wait to spend time with Lillian again and finalize the plans for their wedding that was now only weeks away.
It is no wonder then that Leonard was considerably taken back, on this very special occasion to hear his beloved approach him with this somber message:
"Leonard, there is something I have to tell you and I want you to listen very closely. It may make a difference in whether or not you will still want to marry me. "I am a Christian, and I want to live my life by God's rules. There may be some things that you won't understand about me, that I will not go along with, such as the question of liquor in our home, gambling or loose morals, as some of our families are engaged in.
"I love you very much but Jesus comes first in my life. You must know this now, before the wedding, so that you will have time to change your mind if this is more than you expected. For me, if we get married it will be for the rest of our lives and there won't be any turning back."
Living God's way? This was something to which Leonard had never given any serious thought, nor considered it necessary.  It was true that his mother was very religious, everybody knew that. She didn't drink liquor, smoke, swear or listen to off-color jokes.  On Sundays she didn't do a lick of work, but rather went her quiet way singing her favorite hymns of praise to the Lord.  This was her testimony, she told her family.
Leonard recalled how she dressed in her best clothing and when summer came she always wore her neat white shoes. That was how it was with older women, he reasoned.  It had always been just fine with him and it hadn't ' cramped his style a bit!  But now, as he sat across from Lillian with her serious blue eyes fastened on his own, he realized that their whole future hung in the balance of this moment, and that she would accept nothing except an honest answer from him.
Taking her hands in his, he spoke words straight from his heart. "I'm glad you told me this, Lillian," he said. "I too, want our marriage to last for our lifetime. If what you have told me is true I'm sure it will only make our lives together so much better. Please have patience with me. I think everything will work out just fine."
June 9, 1947 dawned a day of sunshine and promise for Leonard and Lillian. At the home of C.B. and Ruby Olson, family and friends gathered to celebrate their beautiful, quiet wedding, with Archdeacon Little, Athabasca, officiating.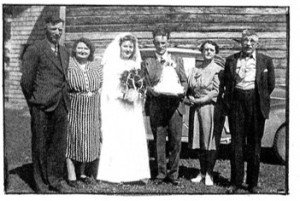 Married life for Mr. and Mrs. Leonard Rempel got off to a fine start. They settled into their little honeymoon home on the mill site among the scattered houses of Leonard's parents and siblings, after a fabulous honeymoon of a week in the city of Edmonton. Leonard continued his job at the saw mill and Lillian was ecstatic in setting her very first little home in order.
On weekends they made frequent trips up to Otter Creek to visit Lillian's family and no young couple has ever been happier. To Leonard, life was just getting better than ever and his heart was bursting with song.
Leonard had just passed his twentieth birthday when he became a father for the first time. With the arrival of that beautiful baby daughter life for him took on a whole new dimension and focus. And as the years increased in number, likewise did his family. By the time Leonard and Lillian celebrated their tenth wedding anniversary they had been blessed with not one, but two beautiful daughters and three precious sons as well.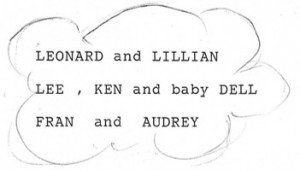 During this point in time life was moving swiftly for the young Rempel family. Almost too fast for Leonard to keep up. He found that he often had to work seven days a week to keep ahead of expenses, but this he did, faithfully, without a word of complaint. In addition to the farm and livestock he had now acquired, he also operated a small sawmill of his own during the months of winter.
But life was not all work for Leonard as there was many fun-times tucked in between his hours of labour. There were the ball games to be played and horseshoe games to be won during the warm summer months and many pleasant hours of card games when their friends called in at the end of the day.
Leonard's rich, vibrant voice and rhythmic guitar continued to gain popularity in the neighborhood. Before long he organized a musical band with other local musicians where they provided entertainment at all the social gatherings.
Leonard's five children were musically inclined, as well. They cut their teeth listening to their Daddy belting out his lively, western tunes and they followed in his footsteps. They quickly memorized the words to the songs he sang and at a very early age they were all joining him, gathered at his knee, harmonizing to the current hits of the day.
---
---
In the year of 1964 Leonard left his farm and sawmill life behind and brought his family to the province of British Columbia, where he became an employee of the instant village of Granisle Copper. As copper ore was being mined on a large scale the future looked promising and Leonard soon moved up the ladder of success to achieve the position of shift boss with many workers under his supervision.
Because there was yet no high school at Granisle Leonard settled his family in the sleepy little town of Houston, B.C. in order that his now teenage children could continue their education.
These were busy years for Leonard… working five days a week at the Granisle mine which was fifty miles from Houston where the family lived. Weekends at home were always a boisterous experience for Leonard. Before his very eyes he beheld his offspring becoming young adults with hopes and dreams too numerous to fathom.
The visions of these eager, enthusiastic youngsters far exceeded anything their doting parents had ever imagined. In addition, to their pursuit of success in the secular field, to Leonard's amazement, each and every one of the children became Christians, with several of them attending a renowned bible college in Saskatchewan.
There now reigned a new depth and spirit in the Rempel household. Leonard found his home overflowing with young Christian students who gathered to share their faith in the Lord Jesus Christ, to pray together and spend long hours singing hymns until late into the night.
With his love for music and song, Leonard readily learned all these new songs and often accompanied the younger set with his own voice and guitar. Occasionally, he even attended church services with the family as he became more and more aware of Christ's love and purpose for his life.
It was the year of 1974 when Leonard made the decision to give his heart to the Lord Jesus Christ. His life was never the same again as God continued to put a new song in his heart.
It is interesting to note that at this precise point in time the Granisle mine was forced to close due to the extreme drop in prices and demand for copper on the world market.
Leonard was concerned about his future as he realized that the source of security he had enjoyed for seventeen years was now a thing of the past.
However, without Leonard ever realizing it, at the time, God was in control and was about to reveal the plans he had for Leonard in the days ahead.
 After the closure of the Granisle copper mine Leonard found employment at the Decker Lake Lumber Company. For the first time in his life he worked shoulder to shoulder with Christian fellow workers whose faith in God was evident in their daily lives. This had a profound impact on Leonard as he graded the bush roads for the company. In a beautiful way he grew in the grace and knowledge of the Lord as he began to really see Him at work in his own life.
In obedience to the word of Jesus Christ Leonard was baptized March, 1985, in the newly built First Mennonite Church at Burns Lake, B.C.
When Brother Leonard discovered the following song he declared that it had been written especially for him, revealing the wonderful way that the Lord has changed his life. He continues to thank Him daily for the redeemed life he now enjoys and for the hope of eternity with Christ.
THE YEARS THE LOCUSTS HAVE EATEN:
As the years roll by, Leonard still considers the above song to be his testimony. With his gift of singing he has served the Lord in praise and worship in churches and bible study groups wherever he happens to be living.
After he retired from the work force he constantly gave of himself in helping others, whatever the task might have been. Much of his time was spent in helping ranchers tend their stock, repairing fences, making hay or doing field work. He was always available to provide transportation for the elderly, visit the ill or assisting his neighbor in moving his household possessions whenever it was necessary for him to relocate.
Now, in his late seventies Leonard is busier than ever, volunteering in the mission of providing food for the hungry at the "Okanagan Gleaners", Oliver, B.C.  He arises with a new song in his heart each morning, as he ventures forth to join his Christian brothers and sisters, in answer to the call of God.  He is never happier than when he surrounded by his fellow men with whom he can share his love for Christ through song, as his testimony.
The following is a little song that he composed especially for the Gleaners which has become their theme song: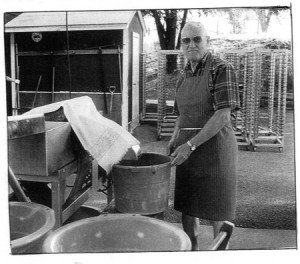 THE GLEANER'S PRAYER
 Roll out the barrels,
We're working here and it's fun.
We'll feed the hungry,
Start with a million and one.
We'll send God's blessing,
With every meal we'll prepare.
Now it's time fill up the barrels,
With God's love and prayer!
(To the tune of the old wartime song: "ROLL OUT THE BARREL!")
 A long time has passed since Leonard Sydney Rempel was a cuddly curly-haired little brother in the Rempel family. Many people have touched his life in a very special way which has contributed to shaping him into the extraordinary person he is today. Throughout his lifetime his zest for living, love for music and the genuine interest he has for people has continued to expand and has followed him in his relationship with those God has chosen to walk with him along life's highway. But it is without a doubt that it is the love of Christ and the abundance of His Spirit that had the most profound effect on the heart of Brother Leonard.
He is no longer concerned about the years that the locusts have eaten in his life. Leonard is confident in this, that the One who began a good in him will bring it to completion by the day of Jesus Christ.
LEONARD and LILLIAN REMPEL and their FAMILY
LEE, AUDREY, DELL, FRAN and KEN
~In the year of 2002 Leonard and Lillian celebrated their fifty-fifth wedding anniversary. They live in the beautiful city of in the heart of the Okanagan valley,
Penticton, the land of fruits and flowers, where the sun is always shining and the skies are always blue!
 Lillian M. Rempel
Penticton, B.C. June, 2005
~Ten years later Leonard and Lillian celebrated their sixty-fifth wedding anniversary.  They were joined by family and their many friends at Grace.  It was a joyful occasion and a celebration of how God had truly given Len the years that the locus had eaten. You can click on the image below to find out more about that remarkable event.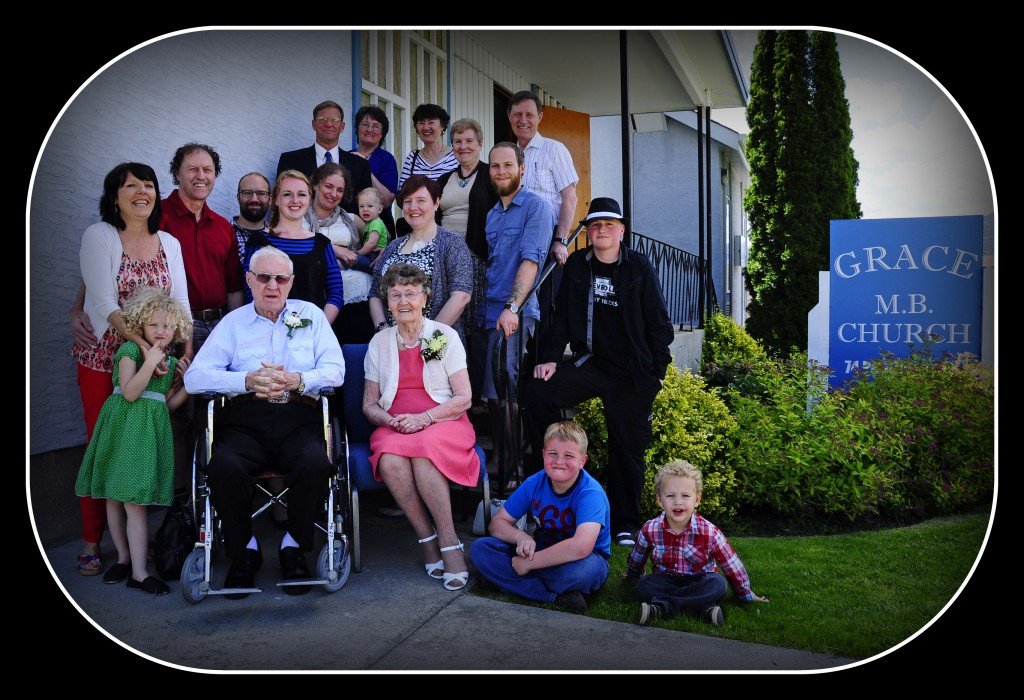 In 2014 Leonard had to slow down a bit more.  He now lives in a wonderful care facility with his bride of 67 years, who patiently and lovingly cares for him.  Their eyes still twinkle when they see each other from across the room.  Though in their late eighties, they continue to enjoy special times with their family and friends singing around the table.